News and Events
Thursday, 05 March 2015 16:08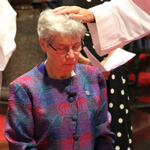 Sr Elizabeth Delaney, a Sister of the Good Samaritan (SGS) of the Order of St Benedict, was commissioned on 4 March 2015 as the 4th General Secretary of the National Council of Churches in Australia (NCCA), based in Sydney. Elizabeth brings ten years' experience with ecumenical and inter-faith dialogues through the offices of the Australian Catholic Bishops Conference and her five years of service as a member of the NCCA Executive Committee.
Friday, 17 January 2014 01:00
From the World Council of Churches
"An urgent call to action for a just peace in Syria" - statement from the WCC Ecumenical Consultation on Syria, held 15-17 January 2014, at the Ecumenical Centre to be presented at the Geneva 2 talks on Syria.
Church leaders and representatives from Syria, the Middle East Council of Churches, the World Council of Churches and the Holy See[1] gathered in Geneva from 15–17 January 2014 for a consultation to address the forthcoming Geneva II peace conference on Syria.
Page 4 of 4