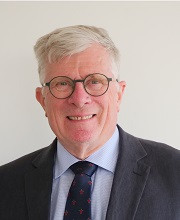 At the Uppsala Assembly of the World Council of Churches a sentence was used that I find inspirational. It is this; 'the Church is a sign of the coming unity of the whole human family'. This vision is a call to a hope beyond matters that distinguish us as individual church communities. It also directs our attention to an ultimate vision of unity – where people of every nation, tribe and language gather together in worship of God.
Yes, there are differences between Christian communities and churches. Some of the differences reflect our theological understanding, cultural identity, and journeys in mission. These differences do not need to become foundations of separation. 
Engaging in the life of the National Council of Churches in Australia is one way of intentionally deciding to deepen our relationships with each other so that we give expression to a sense of unity that takes us beyond our selves and the differences we have.  
In the NCCA, 18 Christian Churches share an understanding and a commitment to action together, we see evidence of our work in several ways: 
We are committed to reconciliation with Australia's First Nations and to the Uluru Statement from the Heart.
There is the continuing work of the NCCA through: 
Act for Peace, our international aid agency,
The Australian Churches Refugee Task Force
The Faith and Unity Commission,
The Safe Church Program 
and so much more.
What is clear in all of this is that we are 'better together'.  In my own particular tradition, a key scripture is from Ephesians where Paul affirms that there is 'one Lord, one faith, one baptism, one God and Father of all, who is above all and through all and in all.' (Eph 4:4-5).  This passage is a reminder of our unity before God. 
I hope that as you learn about the NCCA, explore this website and follow the links to our member churches, that you will grow in your appreciation of both what unites us and also the gifts that the particular Christian traditions are to the NCCA. 
Reverend John Gilmore
President
National Council of Churches in Australia