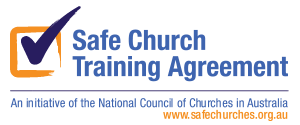 National Council of Churches in Australia
SCTA Unit
Locked Bag Q199
Queen Victoria Building NSW 1230
Free Call (from landlines) 1800 625 611
Ph: 02 8259 0876

If you wish to report concerns about misconduct or abuse within a particular church, denomination or religious group, click here to find the correct contact.
For information about the Royal Commission into Institutional Responces to Child Sexual Abuse, including Final Report released 15 December 2017, click here.
For information about Working with Children Checks (WWCC) please see the bottom of our resources page here.
For information on Child Safe Standards for faith communities click here.
Training available consists of a Safe Church Awareness Workshop (approx 6 hours) and a Safe Church Refresher Workshop (approx 3 hours). For workshop times click here.
To receive our monthly newsletter, or for any other questions, please complete the form below to contact us via email (preferred):