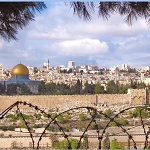 NCCA Media Statement
13 December 2018
We are soon to remember Jesus born in a Bethlehem stable, there being no other place....
But for real peace-making, each next step needs to be undertaken after careful dialogue and with a humble spirit.
"We urge, we plead with our Australian Government to listen carefully before adding to the complexity with hasty decisions about moving an embassy. " Says Bishop Philip Huggins
Download the attached 13 December 2018 Media Release to read.