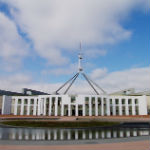 NCCA Media Statement
17 October 2018
On Thursday morning 18 October a delegation of six faith leaders will visit Canberra to discuss the plight of asylum seeker children on Nauru. NCCA President, Bishop Philip Huggins and NCCA Interim General Secretary, Liz Stone will be part of this delegation and will speak with both the Minister for Immigration David Coleman and the Shadow Minister Shayne Neumann.
The group of faith leaders will advocate for a bi-partisan approach to support a plan to restore hope and dignity to those on Manus and Nauru, in the hope of bringing children and their families from Nauru to Australia.
"We need to bring them here and either offer resettlement in Australia or find another suitable country that welcomes them" says Bishop Philip Huggins, Anglican Bishop of Melbourne and President of National Council of Churches in Australia.
Download the attached 17 October Media Release7 October Media Releaseto read.