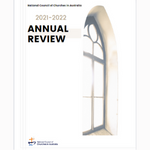 At the Annual General Meeting on 2 November 2022, General Secretary, Ms Liz Stone, presented an Annual Review for 2021-2022 relating to the activities and programs of the National Council of Churches in Australia.
All member and observer churches of the NCCA will receive a hard copy of the Annual Review in the post.
The NCCA Annual Review 2021-2022 can be downloaded below for your information and interest. 
Download:  pdf 2022 NCCA Annual Review (45.89 MB)  (low resolution)
NB: This is the reduced file version. A higher resolution, print ready version is available upon request from the Secretariat.
The audited NCCA Financial Statements 2021-2022 were also presented at the Annual General Meeting and these are available to member churches on request.
E: This email address is being protected from spambots. You need JavaScript enabled to view it.