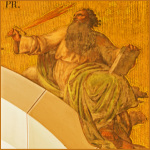 There is a lot of noise at the moment. 
I am tired of the intensity of the debate over the Voice. In one sense, that in the noise we have lost sight of the Uluru Statement From the Heart which opens with: 
The Uluru Statement From The Heart addressed to the Australian people invited the nation to create a better future via the proposal of key reforms…
and closes with:
We invite you to walk with us in a movement of the Australian people for a better future.
Two beautiful and important words 'create' and 'invite'.  Both are positive and encouraging and safe words. There is no threat, angst or complexity in them. The Statement is addressed with the hope that we will accept the invitation. 
What has happened is far removed from these words. What is at risk is the dynamic of hope contained in the statement. Whilst it is true that not all Indigenous communities were directly consulted, it is also true that many, many were. 
As churches and people of faith over the coming weeks we have time to pause and seek the gracious guidance of God as we discern our responses to the statement and to the proposed Constitutional change. 
The guidance of God is not always discerned in the noise of debate and point scoring (earthquake) – God is present in many ways including as follows:  
'and after the earthquake a fire, but the LORD was not in the fire; and after the fire a sound of sheer silence.
When Elijah heard it, he wrapped his face in his mantle and went out and stood at the entrance of the cave. Then there came a voice to him that said, 'What are you doing here, Elijah?' (I Kings 19:12 and 13 NRSV). 
Elijah heard the sound of sheer silence and knew it was God's presence for him.  Here is an invitation – to listen for God in the sound of sheer silence!
Can we create some moments where we can be present to God and in those moment seek and discern as communities and people where God is guiding us in considering the invitation contained in the Statement from the Heart? As people of faith – this is what we must do.
Rev John Gilmore 
NCCA President