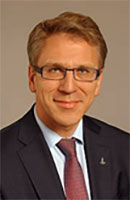 Rev Dr Olav Fykse Tveit , General Secretary of the World Council of Churches will visit Australia, 11-17 October.
The official itinerary for his visit has yet to be released but we are happy to share with you the details as we know them at this time.
Tuesday 11
Arriving in Brisbane for the evening event: Bishop Putney Memorial Lecture 2016,"Ways forward in ecumenism in this contemporary age"
Wednesday 12 –
Travelling to Canberra for the evening where it is hoped that he will meet with Government leaders in the afternoon
Thursday 13 –
Flying south to Melbourne to meet with representatives of the Ecumenical Accompaniment Programme in Palestine and Israel (EAPPI), Palestine Israel Ecumenical Network (PIEN) and the Australia Palestine Advocacy Network (APAN), followed in the evening with a public event, details yet to be determined.
Friday 14
Rev Dr Tveit will be in Adelaide. At the time of publication this leg of his journey was still under consideration
Saturday 15
Returning to the east coast once more for a dinner in Sydney with the NSW Ecumenical Council and church leaders.
Sunday 16
In Sydney for an Afternoon Ecumenical Multifaith Farewell Service at St Stephen's Church, 197 Macquarie St , before his departure Monday 17 October.