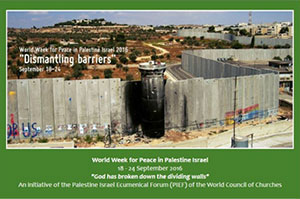 "God has broken down the dividing walls"
This is the theme for 2016's World Week of Peace in Palestine Israel, a week of advocacy and action in support of an end to the illegal occupation of Palestine and a just peace for all in Palestine and Israel.
Join together with Congregations and individuals around the globe who share the hope of justice shall unite during the week to take peaceful actions, together, to create a common international public witness.
The action week's message is that now:
It's time for Palestinians and Israelis to share a just peace.
It's time for freedom from occupation.
It's time for equal rights.
It's time for the healing of wounded souls.
For further information and to find out how to get involved see: