Catholic religious orders from across Australia call for Amnesty for the people in detention camps: saying #BringThemHere!
Sisters from Catholic religious orders across Australia today signed a statement calling on the Prime Minister to issue an amnesty for those suffering cruelty in Australia's offshore detention camps, and backed a call for a Summit on Solutions to take the politics out of refugee policy.
Speaking at Mary Mackillop Place in Sydney on 18 August, 2016, Sr Monica Cavanagh, Congregational Leader of the Sisters of St Joseph, said "after people are brought here to safety, we fully support the call for a Summit on Solutions, so that the best alternatives can be thrashed out in a bipartisan way".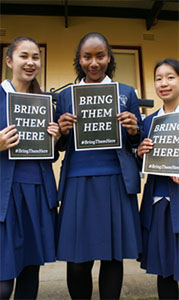 Misha Coleman, Executive Officer of the Australian Churches Refugee Taskforce, also speaking at the celebrations for Saint Mary Mackillop on 18 August, said "we don't accept the argument that it's impossible to bring people here for fear of the people smuggling trade re-starting."
The statement calls for alternative solutions which are currently being ignored because of partisan debates. "We need a Summit of Solutions now to force our leaders to put safety above politics".
To read the full document, download a copy of the Media Release
For Media Inquiries and comment:
Misha Coleman, Executive Officer, Australian Churches Refugee Taskforce, 0428 399 739