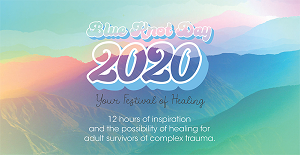 "Your Festival of Healing"
In 2020 Blue Knot Day will be held as a virtual festival.  
12 hours of inspiration and the possibility of healing for adult survivors of complex trauma, running from 7AM to 7 PM AEDT. 
The 29 October is an Australian national day on which Australians unite in support of the 1 in 4 Australian adults who have experienced complex trauma.
Hosted by the Blue Knot Foundation, ideas and events can be shared each hour in the digital space, via Facebook, social media and other digital platforms.
Visit the Blue Knot Day website to find ways to get involved and discover  resources to help your fundraising efforts.
Engage with the Festival of Healing across digital platforms
Share with your network through social media
Purchase Blue Knot Foundation merchandise
Fundraise on behalf of Blue Knot Foundation*
Making a one-off or recurring donation 
*If you are fundraising on behalf of Blue Knot Foundation please ensure to register your event
Register your event at https://www.blueknot.org.au/BlueKnotDay