Six faiths unite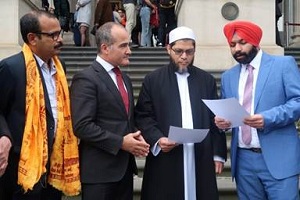 Faith representatives presenting the Deputy Premier (2nd left) with the statement.
Religious cooperation on the steps of Parliament House, Victoria.
On Wednesday 11 October representatives of six religions presented a statement on the Voluntary Dying Bill to Mr James Merlino, Victorian Deputy Premier.
The 'Multifaith Statement' is signed by Sheikh Isse Abdo Musse (President, Board of Imams Victoria), Phra Khru Kampee-panya-withet (Abbot, Melbourne Thai Buddhist Temple), Makarand Bhagwat (Victorian Director, Hindu Council of Australia), Rabbi Daniel Rabin (President, Rabbinical Council of Victoria), Jasbir Singh Suropada (Chairman, Sikh Interfaith Council of Victoria) and Bishop Peter Danaher (President, Victorian Council of Churches).
Read the full article by the Ecumenical & Interfaith Commission
Download the Multifaith Statement