O come, O come, Emmanuel!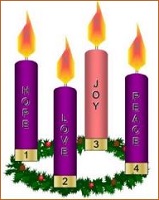 As we prepare for the Feast of the Nativity and all our Christmas celebrations, we offer you some reflections and resources from our members and their networks.
Act for Peace
Take a look at the resources available for the 2020 Christmas Bowl.
Other Church materials as listed below:
Anglican Church of Southern Queensland:
'walk this way - an Advent journey towards Jesus', is a four week program using videos and discussion questions from the St Francis College Short Course series. We have four themes to choose from, and each one considers an aspect of the person and ministry of Jesus, and the role that faith plays in our lives. Each theme winds its way through video conversations with discussion questions for adding your voice to the conversation. Suitable for individuals and groups, 'walk this way' provides rich stimulus for a rewarding Advent journey.
Anglican Overseas Aid
SA Synod of Uniting Church in Australia – Centre for Music, Liturgy and the Arts
Resources include alternate Advent Calendars – 24 acts of love; Nativities – COVID spaced; Blue Advent - for solace and grief; ideas for Carol singing.
https://www.cmla.org.au/resources/advent-resources-2020/ 
SA Synod of Uniting Church in Australia
This Advent resource is designed to assist and inspire churches with ways to adapt elements of a worship liturgy to be more intergenerational during Advent (Nov 29 – Dec 20, 2020). The resource is based on the lectionary readings but the ideas can be adapted to suit any Bible/theme focus.
Catholic Diocese of Wollongong 
Adore—Daily Advent and Christmas Reflections 2020
https://www.dow.org.au/product/adore-advent-program-2020-book/ 
Inspired by the shepherds, Magi and our Blessed Mother, this year's reflection book, Adore, provides a wonderful opportunity for us to take a quiet step out of our daily lives and refocus our attention on the Lord in adoration of what he has done for us through his Son.
Adore is an 88-page pocket-size book containing short spiritually rich, yet accessible, daily reflections from the beginning of Advent (29 November 2020) through to the Baptism of the Lord (10 January 2021).
Caritas
Bethlehem Lutheran Church, Adelaide
A collection of Advent resources from around the world.
Lutheran Tract Mission