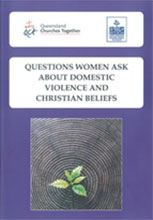 Questions Women ask about Domestic Violence and Christian Beliefs -Revised booklet now available.
This booklet was originally published in 2010 by the Joint Churches Domestic Violence Prevention Project (JCDVPP), a commission of Queensland Churches Together as a resource for victims or survivors of domestic and family violence. Since then it has proven a useful resource for clergy and pastoral carers who support victims in their congregations.
The new edition reflects the changes in theology and language that that the churches have engaged in over the intervening six years.
Issues discussed are believed to be the key questions that women of faith wrestle with in an attempt to make sense of what is happening to them in an abusive relationship, and to make decisions about the kind of future they want for themselves and their children.
To order copies @ $6 each plus postage, contact:
Jela Virzi , Administration Officer
Queensland Churches Together
PO Box 2096, Toowong Q 4066
E: This email address is being protected from spambots. You need JavaScript enabled to view it.
T: 07 3369 6792