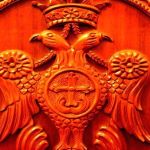 Armenian Diocese of Australia and New Zealand
Our prayers are with His Eminence Archbishop Haigazoun Najarian and the Armenian people in Australia, as the ongoing tragedy and after-effects of the recent earthquakes continue to trouble their extended community in Syria.
The NCCA would like to share the following article from Looyce, the magazine of the Armenian Apostolic Church in Australia- February 2023
The devastating news of the disastrous earthquakes of Syria and Türkiye this month, that jolted the southwestern region of Anatolia where some 25 million people dwell, prompted immediate prayers during the Divine Liturgy and requiem service in the Church of Holy Requiem for all the victims who perished or have been affected.
Among the unfolding news reports, we sadly learned of six Armenians from Aleppo who lost their lives amongst the tens of thousands who have perished. Whilst this is a relatively small number by comparison, many more Armenians lost their homes and workplaces. The community of Aleppo once again faces the mammoth challenges of rebuilding not long after the conflict within Syria. Food, energy and medical supplies are lacking and the structures in Aleppo are now compromised, including churches and schools. The need is great.
By the directive of His Holiness Karekin II Catholicos of All Armenians, His Eminence Archbishop Haigazoun Najarian with the Diocesan Council has requested parishes embark on the fundraising effort. All funds received will be transferred directly to the Armenian Diocese of Beroea (Aleppo).
It is our appeal that, with your generous support, we can inspire hope to our Syrian-Armenian brothers and sisters by supporting them so they have the courage to restore their educational, cultural, sports and social life once again.
Emergency Appeal
Donations to the Appeal for Syria can be made at Holy Resurrection Church
In person: Monday - Friday 9:00 am or Sunday mornings 10:00 am to 12:30 pm
Phone: the Church office on 9419 8056 for eftpos/credi card payments
Bank transfer:
to the Armenian Church Council of Aust. in NSW
BSB: 032090 
Account No: 120888 – Ref: Appeal for Syria
---
News from Aleppo, Syria
Aleppo trembles again, as the Church doubles down on efforts to help the population | Catholic Outlook
By María Lozano, Aid to the Church in Need, 9 March 2023 
People hiding after an earthquake hit Syria and Turkey in late February in the Mekhitarist Fathers' School in Aleppo, Syria. Image: Mekhitarist Fathers' School/Aid to the Church in Need/Supplied
 "We are well, thank God, all well. It was frightening, very strong. There is much fear, that is the general feeling, in some cases even panic. And there is good reason to be afraid."
This is how Father Hugo Alaniz, a project partner of the international foundation Aid to the Church in Need (ACN), describes the situation in Aleppo, where a new earthquake struck Syria and Turkey in late February. The quake hit the same region that had been shaken exactly one week earlier, killing at least 47 thousand people, and leaving tens of thousands homeless.
The earthquake did not cause serious physical or material damage in Syria, but the psychological toll was significant. ACN project partners in Aleppo and Lattakia, and employees in Homs and Damascus, confirm that hundreds of people spent the night in the street, in parking lots or in churches. The Franciscans in Lattakia once again hosted two hundred people in their church and the courtyard of the Mekhitarist college was turned into a large camp where hundreds of people spent the night.
"I was visiting a family when the quake hit. I had already experienced an earthquake back in my native Argentina, when I was small, but it is really terrible, and very frightening. Everybody was screaming, they should have exited the house, but everybody stayed put, so I stayed with them. I crouched under a beam and prayed, begging God to have mercy", says the Argentinian religious, who serves a parish in one of the poorer neighbourhoods of Aleppo, with a large population of Armenian Christians.
"Finally, I went outside. I spent three hours walking through the streets, consoling people, families, encouraging them and praying, until midnight. I ended up in a hospital, praying with those I knew who were there. We also opened the bishop's residence, and took in many families."
"Thank goodness, things are much better today. But please pray, pray for us. God bless you, and thank you for remembering us", says the priest.
Thanks to the generosity of ACN benefactors, around 450 families in Father Hugo's parish have been receiving emergency aid in the form of blankets, flashlights, medicine, food and milk for babies and the elderly.
"We thank God for this blessing. In light of the current tragic circumstances in Syria, caused by the earthquake, particularly in Aleppo, which has been classified as a devastated city, we are trying to cover as many needs as possible, thanks to your help. I would also like to thank you for your efforts in the service of the Word of God", says Father Enrique González, who works with Father Hugo in the parish of Our Lady of the Annunciation, Aleppo, in a message of thanks to ACN.
Pontifical foundation Aid to the Church in Need (ACN) is currently carrying out a 770,000 AUD emergency campaign to help victims of the earthquake in Aleppo and Lattakia, through the local Church. With this first package of aid the pontifical charity has been supporting projects that supply food, medicine, hygiene products and lodging, among other basic needs. An increasing number of people have been benefitting from this aid, according to information provided by ACN project partners on the ground.
To learn more and donate, please go here. 
With thanks to Aid to the Church in Need Australia.