8th International Conference
The conference theme is 'Changing cultures of Ageing and Spirituality.'
Canberra ACT, 27 - 30 October 2019
Early bird registrations are now open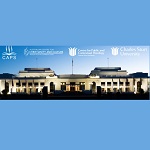 Professor Bruce A. Stevens, Director of CAPS (Colloquium for Ageing Perspectives and Spirituality) is the Convenor of the 8th International Conference on Ageing and Spirituality
International and local speakers will address the theme with pre-conference workshops and 3 days of conference.
Pre-conference workshops
When: Sunday 27 October 2019
Location: Australian Centre Christianity and Culture
A Day of pre-conference workshops with Professor John Swinton, Rev Professor Elizabeth MacKinlay and Professor Bruce A. Stevens.
The official welcome reception is at 5.30pm-7pm Sunday night.
Conference
When: Monday 28 - Wednesday 30 October2019
Location: Old Parliament House
For registrations and information please visit the website https://arts-ed.csu.edu.au/centres/accc/ageing-spirituality
Speakers:
| | | |
| --- | --- | --- |
| | | |
| Rev Prof Elizabeth MacKinlay AM, FACN, PhD | Professor John Swinton, BD, PhD, RMN, RNMD | Dr Lydia K. Manning, Ph.D |
| | | |
| Dr Richard Egan, PhD | Professor Kalyani Mehta | Professor Bruce A. Stevens |
ENQUIRIES:
Katherine Waite, Administration and Communications Coordinator, Australian Centre for Christianity & Culture
Ph. 02 6272 6201