Conversation on "Aged Care Crisis? Ethics in our Modern Day Practice"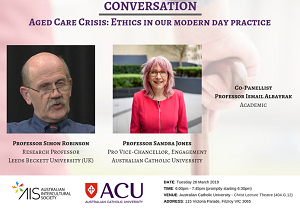 What ethical considerations need emphasis during training ? How can our elderly find the comfort and solace they so desperately seek to find whilst in other's care ?
Hear from our experts who share their observances on a very timely and important topic.
A royal commission into Australia's Aged Care service providers is looking to address systemic issues that are corrupting the noble service. Recent reports (Feb 2019) state there were more than 3,700 assaults, either physical or mental on both residents or staff, in Australian nursing homes this past financial year.
With more rigorous audits being conducted, more failings are being uncovered in the sector ranging from lower staff ratios to sub-standard practices becoming pervasive. With an ageing population, corrective action needs to be in place to resolve systemic issues as more people are looking at options for themselves or for loved ones who need the care they deserve. What should our carers be mindful of when looking after our elderly?
Date: Tuesday 26 March 2019
Time: 6:00pm – 7:45pm (Discussion promptly starts 6:30pm)
Venue: Australian Catholic University – 115 Victoria Parade, Fitzroy Christ Lecture Theatre Room 404.G.12 (Entry via Graham St, Fitzroy)
Panellists: Prof Simon Robinson (Leeds Beckett University, UK), Prof Ismail Albayrak (ACU). Moderated by Prof Sandra Jones (ACU)
RSVP: Click here to register on Eventbrite

This event is free and open to the public. Due to limited space, everyone is requested to register via the link.
Please feel free to share with your networks.
Organised by the Australian Intercultural Society (AIS) in partnership with the Australian Catholic University (ACU)