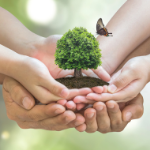 This year is an important year for climate action messaging.
With COP26 approaching, the NCCA is inviting you to create inspiring climate action messages that can be shared in our Churches.
We are putting out a call to our networks for their creative suggestions for poster slogans and designs. These will be used to engage us in a season of focus on the care of creation and action to reduce the effects of climate change.
These messages may include images and/or text and will convey inspirational ideas to engage the viewer/reader.
We are offering a gift to each the most creative responses. Details regarding competition closure and awards will be forthcoming in the next newsletter issue.
TO ASSIST
Read:   pdf Philip Huggins Climate Change request (410 KB)  here 
The ACSQ Doing Justice team, based at St John's Cathedral Brisbane have uploaded an extensive webpage of messaging and tips. The team are happy for you to use/adapt all of these resources, although they ask that these resources be used for non-commercial purposes only.
The ACSQ Climate and creation care communications webpage is accessible using this link https://www.stjohnscathedral.com.au/discover-st-johns/advocacy/environment/reframe/