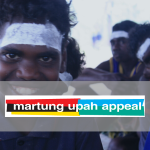 Help us support First Nation's people
Martung Upah is NCCA's major fundraising appeal. Income received allows us to fund the Aboriginal and Torres Strait Islander Development Fund.
Your gift makes an enormous difference to NCCA to help us support our First Nations people. Without it, we would not be able to provide educational resources to the wider community; engage the Churches in Indigenous issues or fund important community development projects. 
The Martung Upah appeal is one way that you can support Aboriginal and Torres Strait Islander peoples directly. Our aim is to build a better tomorrow for all First Nation children so that injustice and discrimination will not be part of Australia's future. 
We look forward to our continued partnership and thank you for your support. Donations can be made online here 
Martung Upah is from Western Australia and means 'partnership'.