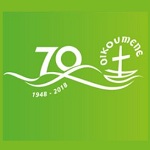 WALKING, PRAYING AND WORKING TOGETHER – serving justice and peace
The 10th Central Committee meeting of the World Council of Churches (WCC) has been meeting in Switzerland from 15 - 22 June 2108. NCCA's Interim General Secretary, Liz Stone was in attendance, NCCA being an ecumenical partner to the WCC, and shares her reflections and photo diary with us.
The meeting was held at the Ecumenical Centre at Geneva and the Ecumenical Institute at Bossey, in beautiful summer weather. As the meeting closed on 22 June 2018, Pope Francis visited the WCC for a prayer service with the WCC Central Committee in the chapel of the Ecumenical Centre. The Pope delivered an address to the gathering of member church representatives and ecumenical partners from around the world.
Liz writes:
The bi-annual Central Committee meeting was greatly influenced by reflection on two recent programs. The first is the Pilgrimage of Justice and Peace that has been gaining momentum as an expression of shared vision across the WCC since the last Assembly in Busan. Pilgrimage visits in Nigeria (2017) and Colombia (2018) show that engaging together in transformative action for justice and peace is deepening Christian unity. In 2019, the regional focus will be Asia and Australia will be invited to engage in a number of the WCC pilgrimages of justice and peace, eg Bangladesh offering protection to Rohyinga refugees; refugees on Thai/Burma border; the people of the Korean Peninsula; caste discrimination in India. "A pilgrimage of justice and peace is a living fellowship to walk, pray and work together for transformation" said one WCC pilgrimage participant reporting to the Geneva meeting.
By far the most talked about, and influential recent event is the Conference on World Mission and Evangelism held in Arusha, Tanzania in March 2018: "Moving in the Spirit: Called to Transforming Discipleship". Everyone who attended talked of being moved by the Spirit, inspired by Africa and informed by Together Towards Life (WCC, 2012).
"If we live in the Spirit, let us also walk in the Spirit" (Galatians 5:25)
There being broad participation from all Church traditions and groups at the Arusha Mission Conference, together they were able to adopt and issue the 'Arusha Call to Discipleship' as an expression of unity about the transforming mission of God in the world. I encourage us all to study the Arusha Call to Discipleship and accompanying documents from the Conference in order to truly embrace the call to discipleship for enabling new opportunities for the ecumenical community to engage creatively with the world – Disciples caring for creation; Disciples at the margins; Disciples committed to evangelism; Disciples reaching across religious boundaries; Disciples sensitive to the trends of secularisation; Disciples committing to community; Disciples modelling leadership; Disciples taking up the cross.
As the Arusha Conference report summarises: "We are led by the Holy Spirit to become pilgrims, journeying together, guided by the vision of God's reign of justice and peace. Through spiritual renewal in Christ, we are called and led to be agents of transformation."
The privilege of attending the WCC Central Committee meeting has been one of receiving the gift of fellowship and the gift of inheriting the work of those Australians that have gone before me.
Blessings to you all, especially my lay predecessor Jean Skuse.
Liz Stone
Interim General Secretary
17 June 2018, Australian members of the WCC Central Committee at 70 year celebrations at Chateau Bossey on : (L to R): Emily Evans, Uniting Church in Australia; Dr Theodora Issa, Syrian Orthodox Church of Antioch; Archbishop Phillip Aspinall, Anglican Church of Australia. Liz Stone, Interim General Secretary (behind) also attended.

Community of Women and Men over 70 years of WCC features Ms Jean Skuse, of Uniting Church in Australia, in a pictorial history in the foyer of the Ecumenical Centre in Geneva. Not only is Jean honoured for her significant contribution to WCC, she was a long serving General Secretary of the Australian Council of Churches.

18 June 2018, Plenary session on the Pilgrimage of Justice and Peace - WCC 10th Central Committee Meeting.

19 June 2018, Sub-Committee day for WCC 10th Central Committee on at Bossey Ecumenical Institute, Switzerland.

20 June 2018 – At our plenary session highlighting 70 Years of Living Fellowship, Rev Myong Choi Kang of DPRK spoke of the commited work of WCC since 1984 to bring peace and security, reunification and reconciliation for the Korean Peninsula.

20 June 2018 (L to R) - Rev Fr William Deng Mian, General Secretary of Sudan Council of Churches; Liz Stone, Interim General Secretary, NCCA; Fr James Oyet Latansio, General Secretary of South Sudan Council of Churches. Words of fellowship offered: "We send greetings to our brothers and sisters in Australia."

21 June 2018 - Rev Andrew Williams, UCA,
leading music at the WCC Chapel during ecumenical prayer with Pope Francis.

Pope Francis' to visit the WCC
The Papal Ecumenical Pilgrimage to the World Council of Churches took place in Geneva on 21 June 2018.
For photos and news items on the Papal visit please go to the WCC Website or Facebook page.