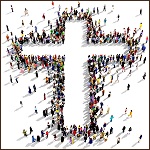 The Religious Society of Friends Australia (Quakers) are currently holding their Yearly Meeting on the Central Coast of NSW. The meeting brings together Friends across the nation for a week in a time of reflective discernment.
On Thursday 12 July, the Interim General Secretary, Liz Stone and NSW Ecumenical Council's General Secretary, Fr Shenouda Mansour joined the Quakers, at Avondale College Cooranbong, for the preparatory session on Ecumenism and Interfaith Relations.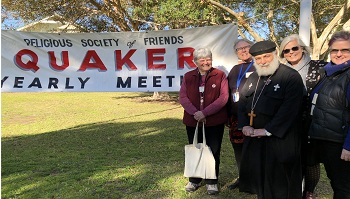 Fr Shenouda, front and Liz Stone (behind) with friends
On Thursday 5 July, the NCCA held a Roundtable on Young Adult Leadership Formation at St James Parish Hall, Sydney. Over twenty people were present representing over eight different churches and Christian organisations. Those present may explore establishing a 'community of practice' to continue the sharing and learning from each other.
| | |
| --- | --- |
| | |
| L_R Participants from the Coptic Orthodox Church, Anglican Church, UCA, Lutheran and Churches of Christ during a discussion session. | L-R Deep in thoughtful discussion, particpants from Churches of Christ, The Salvation Army and Common Grace. |
O Holy One, Alpha and Omega,
we thank you for the paths we have already explored,
the roads not yet taken,
and the ways that lie ahead.
Thank you that they call us on to further journeys,
pilgrimages with companions in the Way,
and that of all our ways,
you remain our Beginning and our End.
Lead us in your way.
Lead us on.
Through Jesus Christ, our Way, our Truth, our Life,
and in the unity of the Holy Spirit, our Advocate,
we pray.
Amen.
(Prayer from WCC Central Committee meeting, 18 June 2018)
Liz Stone
Interim General Secretary