"World Churches Walking Together"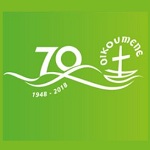 Emily Evans, WCC Executive, Central Committee Member and a member of the Uniting Church in Australia, reflects on her meeting with Pope Francis and the journey of unity with the World Council of Churches.
We have learned over 70 years that human endeavours often fail, but that the grace of the God who is always faithful is with us and will bring to fulfilment the prayer of Jesus "that they may be one".
In 2018, the WCC continues to long and work for the gift of unity - for the church and for the world.
See the full report and photo on the Uniting Church Assembly website.