Executive Committee call for a Wider and Contextual Ecumenism
The CCA Executive Committee met at the Armenian Catholicosate of Cilicia in Antelias, Lebanon from 1 to 4 July 2018. The meeting was hosted by the Armenian Orthodox Church in Iran, a CCA member church from the West Asia region.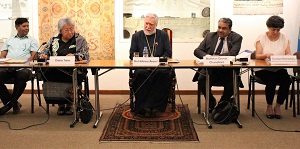 Ecumenism tells us that we cannot live in isolation and that we should engage in existential dialogue; "for Jesus Christ, for the Church, there are no boundaries, so for ecumenism there shouldn't be any boundaries," said His Holiness Aram I, the Catholicos of the Armenian Apostolic Church, Holy See of Cilicia, in a special session at the opening of the Executive Committee.
Read the full CCA article here
L to R Mr. Augustine Dipok Karmakar, Rev.Diana Tana, His Holiness Aram I, Dr. Mathews George Chunakara and Ms. Souraya Bechealany