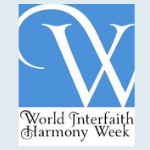 Religious freedom, discrimination, and living well together
You are invited to join this virtual lecture delivered by Professor Douglas Ezzy, University of Tasmania
This is an online event, hosted by Religions for Peace Australia Victoria Branch, Tasmania Branch and the Multifaith Association of South Australia.
Event Details
Program: Religious freedom, discrimination, and living well together.
Date: Tuesday, 1 February 2022
Time: 7:00pm (Can/Syd/Mel/Hob), 6:30pm (SA), 6:00pm (QLD). 5:30pm (NT), 4:00pm (WA)
Venue: via Zoom (details to be sent upon RSVP)
Cost: Free
Bookings: Online at TryBooking - https://www.trybooking.com./BWMAB (or contact Sue Ennis This email address is being protected from spambots. You need JavaScript enabled to view it. )
Download Flyer:  pdf 2022 World Interfaith Harmony Lecture (278 KB)
Prof. Douglas Ezzy
Douglas Ezzy PhD is Professor of Sociology at the University of Tasmania, Australia. He is lead investigator of the Australian Research Council Discovery project "Religious Diversity in Australia" and a second ARC project on "Religious freedom, LGBT+ employees, and the right to discriminate". He is a co-investigator on the Canadian "Nonreligion in a Complex Future" project lead by Professor Lori Beaman. He has been president of the Australian Association for the Study of Religion and editor of the Journal for the Academic Study of Religion. His books include LGBT Christians (2017, with Bronwyn Fielder), Reinventing Church (2016, with Helen and James Collins), and Teenage Witches (2007, with Helen Berger).