A Tribute to His Eminence Dr. Zacharias Mar Theophilus Suffragan Metropolitan, Malankara Mar Thoma Syrian Church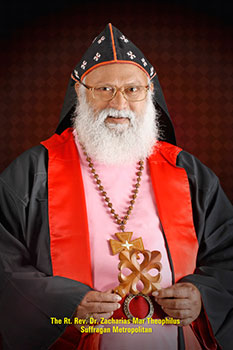 The ecumenical community is saddened by the news of the sudden passing away of Rt. Rev. Dr. Zacharias Mar Theophilus, Suffragan Metropolitan of the Malankara Mar Thoma Syrian Church on 27 December 2015 at the age of 78.
Bishop Mar Theophilus was an ardent ecumenist and severed the ecumenical enterprise in various capacities at different levels. He was a member of the Central and Executive Committees of the World Council of Churches (WCC) from 1991 to 2006 and of the General and Executive Committees of the Christian Conference of Asia (CCA) from 1981 to 1985. He served as a member of the Special Commission on Orthodox Participation in WCC, member of the Asia Regional Group of WCC, and a member of the CCA-WCC Joint Working Group. Mar Theophilus also served in leadership roles in the ecumenical organisations such as the National Council of Churches in India (NCCI) and Bible Society of India.
Bishop Mar Theophilus was also very passionate about mission of the church among the poor and underprivileged. Within his church, the Malankara Mar Thoma Church, he initiated many projects to support the sick and the suffering as well as community development work among the destitutes, migrant labourers and homeless.
In the 1990s, when the Mar Thoma Church did not have any presence in Australia, Bishop Mar Theophilus made many visits to Australia and organised the Mar Thoma community to establish congregations and parishes with the help of Australian churches. Hence the Mar Thoma Church in Australia can be considered one of the fruits of his ministry.
Whenever he visited Australia, he made special efforts to meet with the different church leaders and ecumenical organisations. During his last visit in June 2014, he visited the National Council of Churches of Australia (NCCA) office in Sydney as well as the Victorian Council of Churches office in Melbourne. All those who met Bishop Mar Theophilus remember him with great fondness as a humble and faithful servant of God.
The ecumenical community in Australia give thanks to God for the life and witness of Bishop Mar Theophilus.