Explainer: A Constitutionally Guaranteed First Nations Voice 
This pamphlet produced by Macquarie University's Radical Centre Reform Lab team at aims to answer common questions and dispels myths about a constitutionally-guaranteed First Nations Voice.
The Explainer can be downloaded here.
Closing the Gap report 2022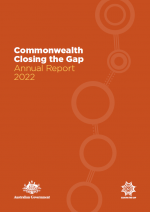 The 2022 Closing the Gap report was released on Wednesday 30 November by the Australian Government National Indigenous Australians Agency.
Download: Commonwealth Closing the Gap Annual Report 2022 Wednesday, 30 November 2022 
ABC political reporter Dana Morse says it shows "limited progress on key targets for improving life outcomes for Indigenous Australians."
Read: ABC News article - Closing the Gap report shows four targets going backwards as experts call for efforts to 'empower communities'