World Council of Churches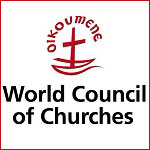 Christmas message 2019 from the WCC
Rev Dr Olav Fykse Tveit, World Council of Churches (WCC) General Secretary,has based his message of light and life on John's gospel:
All things came into being through him, and without him not one thing came into being. What has come into being in him was life, and the life was the light of all people. (John 1: 3-4)
"This Christmas I draw your attention to an aspect of the message of the incarnation that we do not talk about so often, but that has become all the more important to all of us....
But the Gospel also offers us a wider perspective: The Christmas message helps us to see all things and everyone that God has created as expressions of God's will and God's love." Rev Dr Tveit says as he ties the Christmas gift of Jesus' birth, and God's creation with our responsibility to care for our common home.
"The Christmas message is for everybody and about everybody."
Read the full WCC Christmas 2019 message on the WCC website
Watch the WCC Christmas 2019 message on YoutTube
Listen the the audio message in English, French, Spanish, German and Norwegian