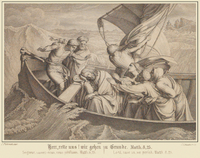 Churches must overcome divisions to achieve common witness, cardinal tells Anglicans
The Vatican's lead cardinal for promoting Christian unity has warned of an "ecumenical emergency" which undermines evangelisation, unless Churches can find a common purpose in the ecumenical movement. 
Cardinal Kurt Koch, the prefect of the dicastery for promoting Christian unity, said in a message to the Anglican bishops attending the Lambeth Conference that a "common ecumenical witness to Jesus Christ in the present world is only possible when Christian churches overcome their divisions".
He said that there were different visions of ecumenism, from Catholic, Protestant and Orthodox perspectives, so "asking questions about the goal of the ecumenical movement, and consequently of a more precise understanding of Church unity cannot simply be done in an abstract way". Instead, "this questioning is always directed and informed by prior ecclesial decisions of a confessional nature".
"This means that the still largely lacking agreement on the goal of the ecumenical movement is rooted in a still largely lacking ecumenical agreement on the nature of the Church and its unity." This means, he continued, that "there are basically as many ecumenical goals as there are confessional ecclesiologies".
Cardinal Koch was unable to travel to the conference due to illness, so his address was read out by Fr Anthony Currer, the dicastery official responsible for relations with Anglicans. He prefaced the cardinal's words with a twofold apology for the absence of three of the six Catholic delegates to the conference due to illness and visa problems, and for the Church's historic reluctance to participate in ecumenical discussion.
He said that the anniversary of the "Appeal to All Christian People" from the 1920 Lambeth Conference "seems an appropriate moment to say we are sorry for being so late to join the ecumenical movement but we thank you for showing us the way".
Cardinal Koch's address was part of a plenary session including contributions from Lutheran, Orthodox and Pentecostal delegates. The Anglican Bishop of Amazonia, Marinez Bassotto, said that Church unity "cannot be carried out without a respect for plurality", while the general secretary of the Lutheran World Federation, Anne Burghardt, said that she was "not afraid of pluralism and postmodernism".
After the plenary, Anglican bishops endorsed the conference's "Call on Church Unity", which committed to "an urgent search for the full visible unity of the Church".
The Archbishop of Birmingham, Bernard Longley, who is co-chair of the Anglican-Roman Catholic International Commission, said that ecumenical delegates recognised the generosity of the call "in particular in its recognition of the fruitfulness of the signs of the life of the Church present in other Christian denominations".
He said that the past 50 years had seen a shift in ecumenical dialogues from the "face-to-face" to the "side-by-side", so that rather than discussing doctrinal matters exclusively the Churches also found common cause in mission and discipleship, justice and peace, and in the protection of the environment.
Source: The Tablet UK: Patrick Hudson, 5 August 2022
Read also:
Lambeth Conference Calls for Church Unity amid 'ecumenical emergency' Lambeth Conference website
'Global Church is experiencing an 'ecumenical emergency'  published in Christian Today 3 August 2022 
"Ecumenism and mission belong inseparably together since that is the only way in which God´s Church really is for God's World." Cardinal Kurt Koch