In Cinemas from 20 August
An inspiring film that highlights many realities for refugees, while still bringing hope. SAINT JUDY tells the story of a remarkable woman who overcame tremendous odds, and reminds us how one person can change the world.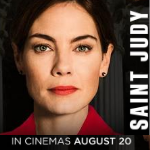 SAINT JUDY is a film that highlights the needs and value of refugees. It tells the true story of immigration lawyer Judy Wood, who successfully challenged a legal precedent to have women recognised as a protected class, giving them the opportunity to seek safety and apply for refugee status. This ground-breaking case set a precedent that changed the lives of thousands of women seeking asylum in the USA.
ABOUT 'SAINT JUDY'
CAST:
MICHELLE MONAGHAN as Judy Wood
LEEM LUBANY as Asefa Ashwari
COMMON as Benjamin Adebayo
PETER KRAUSE as Matthew
with ALFRED MOLINA as Ray Hernandez
and ALFRE WOODARD as Judge Benton
Cinema locations and details, visit the website: www.saintjudymovie.com.au 
Watch the Trailer:  https://www.youtube.com/watch?v=NwNJVxuTYhU&t=26s