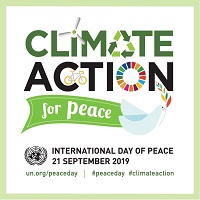 #peaceday #ClimateAction
This year's theme draws attention to the importance of combatting climate change as a way to protect and promote peace throughout the world. Learn more here
On 21 September each year the International Day of Peace is observed around the world. The United Nations General Assembly (UN) has declared this as a day devoted to strengthening the ideals of peace, both within and among all nations and peoples.
Events

SYDNEY - Interfaith Peace Service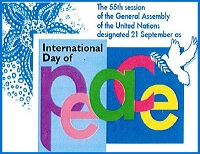 When: Saturday 21 September 2019, 2.00pm
Where: Fellowship Centre, Parramatta Mission (next to Leigh Memorial Uniting Church) 119 Macquarie St, Parramatta
Prayers will be offered by leaders representing fifteen different faith/cultural backgrounds for peace and harmony. Individuals, community groups and schools will perform music and dance. The keynote address would be given by Professor Peter Shergold, Chancellor of Western Sydney University.
At a time when there is so much discord among people of different faiths resulting in disharmony and violence, this service offers people of different faith to
come closer to look at humanity's common longing for peace, and create a harmonious community.
Download a copy of the pdf Peace Service Flyer 2019 (1.64 MB) to circulate among your friends through your networks.
For more information please contact Rev. Dr. Manas Ghosh on 0429 892 548 or at This email address is being protected from spambots. You need JavaScript enabled to view it. P: 02 9891 2277
MELBOURNE - Stop Still for Peace
When: Saturday 21 September 2019, 8:00 - 9.00am
Where: St Paul's Cathedral, Flinders St Melbourne VIC
Bishop Philip Huggins will be leading the observance and candle-lighting on the morning of 21st Sept (more details to come).
ADELAIDE
Climate Action for Peace
Creation Care Seminar: Imagining the Future, Festival 150
A time to explore the theme "For the beauty of the earth", with four leading theologians. Saturday 21 September 9am – 1pm, Cynthia Poulton Hall, St Peter's Cathedral 27 King William Road North Adelaide, South Australia 5006 Australia. Cost $12 or $8 concession.
More information: http://www.stpeters-cathedral.org.au/events/creation-care-seminar/

Interfaith Celebration of International Day of Peace
"Declare Peace on Earth" by building friendships and deeper understanding of Caring for Country across our community. Flyer here. We gather to:
• support Adelaide's commitment to Interfaith Harmony;
• discuss how we can tackle Climate Change by 'Living the Change'; and
• learn "How to Live More Gently on Country" from First Nation Elders
Saturday, 21st September 2019, 5pm – 8:30 pm at Baha'i Centre of Learning, 275 Flinders Street, Adelaide, SA 5000
Ticket available online - https://www.eventbrite.com.au/e/interfaith-celebration-of-international-day-of-peace-tickets-69683379865
For more information:
UN International Peace Day events