International Day of Peace - Interfaith Peace Service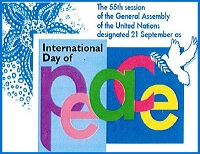 Occassional Address by Rev Simon Hansford, Moderator Uniting Chuch in Australia NSW and ACT Synod.
Prayers for peace will be offered by representatives from Aboriginal, Bahai, Brahmankumaris, Buddhist, Christian, Hindu, Islamic, Jain, Jewish, Mandean, Sikh, Sufi and Zoroastrian communities. Cultural items and refreshments will follow the service.
When: Friday 21 September 2018, 2.00pm
Where: Fellowship Centre, Parramatta Mission (next to Leigh Memorial Uniting Church) 119 Macquarie St, Parramatta
Contact: Rev Dr Manas Ghosh M: 0429 892 548 or E: This email address is being protected from spambots. You need JavaScript enabled to view it. for more information
Shared Table Project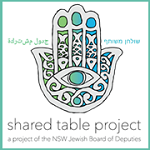 Food, conversation, dancing and preparing 'birthing kits' for women in the developing world.
Since 2012 the Shared Table Project has brought together hundreds of women of all ages from diverse communities to share their stories, talk about their food, backgrounds, cultures and families. The events are always FREE OF CHARGE.
When: Thursday 30 August 2018, 11.30 am to 1.30pm
Where: Parramatta Synagogue, 116 Victoria Road, North Parramatta"Towards Peace with Justice and Human Security,"
RSVP: Email Lynda Ben-Menashe:This email address is being protected from spambots. You need JavaScript enabled to view it.
Please bring a vegetarian plate of food from your culture to explain and share for lunch. Buses will be provided for women who would like transport. Please advise if you would like to use this service when you RSVP.