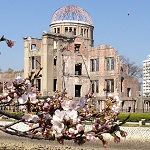 Remembering Hiroshima
On 6 August, 1945 at 8.15 am the world's first nuclear attack was realised. The world had entered the atomic age.
We remember this and the similar attack three days later on Nagasaki and pray for this nuclear tragedy never to be repeated.
Ecumenical Service
On 5 August 2018 an Ecumenical Service was held at Adamstown Uniting Church in rememberance of the nuclear bombing of Hiroshima. The homily, entitled 'A planet to Heal',was delivered by Fr Frank Brennan SJ, CEO of Catholic Social Services Australia.
We are indeed entwined peoples, nationally and internationally. We have become kin. We cannot be selfish or indifferent. Peace is our passion. Peace is our mission. We have a planet to heal. For this we pray this evening. Peace be with you. Amen.
Read the full transcript of Fr Frank Brennan's homily 'A Planet to Heal'
RALLY - Its Time to Ban the Bomb, sign the UN Nuclear Ban Treaty - Sydney CBD
When: Saturday 11 August
Time: 11am Town Hall Square - 12.30 pm march to Hyde Park
For more information visit the Hiroshima Day Committee webiste and Facebook pages
SBS - Junko's Story
Junko Morimoto was a survivor of the Hiroshima blast, an Australian resident and award winning author and illustrator