Peace, Just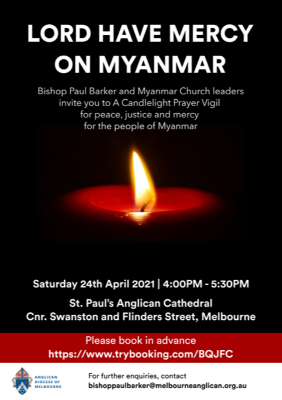 ice and Mercy for the people of Myanmar
Bishop Paul Barker of the Anglican Diocese of Melbourne, together with Myanmar Church leaders will be holding a Candlelight Prayer Vigil in Melbourne. 
When: Saturday 24 April , 4:00-5:30 pm
Where: St Paul's Anglican Cathedral, Cnr Swatston and Flinders St. Melbourne VIC.
Book to attend: https//www.trybooking.com/BQJFC   
If you cannot attend, please pray for the people of Myanmar and encourage your communities to 
Lord have mercy on Myanmar - Eternity News
Paul Barker, Bishop in the Anglican diocese of Melbourne has shared this distressing first-hand account he received from Myanmar. Barker taught in Myanmar for 15 years and has visited over 40 times.
Read the Eternity News article   PAUL BARKER | APRIL 7TH, 2021 01:34 PM