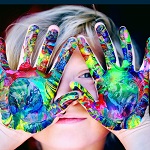 The NCCA has done a little searching and come up with a variety of sources for you to explore. There are activities that you can do at home with your children over the coming weeks.
Start children off on the way they should go, and even when they are old they will not turn from it.
(Proverbs 22:6)
Ideas/activities for families
North Shore Mums
115 Fun activities to do at home with kids while self-isolating - https://www.northshoremums.com.au/fun-home-activities-with-kids
These include ideas for art & craft, indoor play, cooking, outdoor play, home organisation, education, entertainment and exercise. 
More ideas for things to do with kids at home. Take a look at these other articles on the North Shore Mums website:
ABC 
Some ideas for creative play -  https://www.abc.net.au/news/2020-03-25/coronavirus-covid-19-children-creative-play-at-home/12074628 
Save the Children  
Surviving and enjoying isolation with kids - https://www.savethechildren.org.au/Our-Stories/surviving-and-enjoying-isolation-with-kids  
Bible study & Lessons
FREE Quarantine-Friendly Resources You Can Share With Families  - https://childrensministry.com/sunday-school/ 
Shop online for Children's Ministry Books  - https://www.koorong.com/c/books/ministry/childrens-ministry 
Mental Health
Coronavirus: how to help children through isolation and lockdown - https://theconversation.com/coronavirus-how-to-help-children-through-isolation-and-lockdown-133990  
Environment
Junior Landcare - "The entire environment is your backyard" - https://juniorlandcare.org.au/
'What's in Your Backyard?' is a key activity in Junior Landcare's new Learning Centre. This resource has 30-minute learning activities developed by education professionals to help children be aware, empowered and active in caring for their local environment. The Learning Centre will help children understand biodiversity, where their food comes from, Indigenous perspectives and recycling and waste management.
Activity:
* children are invited to grab a camera and snap photos of the flora and fauna in their backyard.
Joining forces with Junior Landcare, Costa Georgiadis the popular TV star and Landcare champion has launched the 'What's In Your Backyard?' campaign to encourage the next generation to get outside and document what's in their local environment.
*Watch the video or read more about the campaign here. - https://juniorlandcare.org.au/campaigns/whatsinyourbackyard/ 
*Read more - https://juniorlandcare.org.au/mediarelease/costa-georgiadis-and-junior-landcare-ask-aussie-kids-whats-in-your-backyard/ 
These a just some ideas on how to keep your children occupied in the coming weeks and months.
Feel free to share these, along with your own, with your church networks.