"Your right hand, O Lord, glorious in power"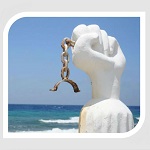 (cf. Exodus 15.6)
13 – 20 May 2018
In 2018 the Week of Prayer for Christian Unity in Australia will be observed from 13 – 20 May 2018 , the week between Ascension and Pentecost.
Resources are now available.
(Statue commemorating the Curaçao Slave Revolt of 1795)
NCCA RESOURCES:
PRAYER CARDS
Printing of the Prayer Cards this year is being coordinated by Queensland Churches Together (QCT).
The price is the same as last year, 25 cards for $12.50 plus postage. All enquiries can be directed to Jackie Fewtrell (This email address is being protected from spambots. You need JavaScript enabled to view it.) who will process the orders.
LOCAL EVENTS ACROSS AUSTRALIA
Information concerning Week of Prayer for Christian Unity events may be obtained from your State Ecumenical Council.
Acknowledgement :
These resources in Australia are based on the international material for the 20178 Week of Prayer for Christian Unity. They have been adapted for use in Australia by the Faith and Unity Commission of the National Council of Churches in Australia.
Donation: If you have found these resources useful, any donations to help cover the cost of producing the resources will be gratefully received by NCCA Faith and Unity. Locked Bag Q199, Queen Victoria Building NSW 1230.
Many thanks.
For more information: ph. (02) 9299 2215