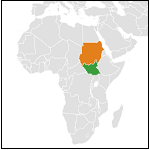 South Sudanese and Sudanese Church Leaders
Co-hosted by the National Council of Churches in Australia and the Australian Centre for Christianity & Culture Canberra
Tuesday 15 & Wednesday 16 May 2018, 10.00am to 4.00pm
Venue:
The Chambers Pavilion, Australian Centre for Christianity & Culture, 15 Blackall Street, Barton ACT.
Purpose:
After listening to the community in January, as requested, we are gathering a small group of leaders including from nominations by NCCA Heads of Churches for our meeting, which is just before Africa Week.
Our intention is to draft together a statement by our gathered leaders. This has several purposes. One is so it can be sent to representatives of the various stakeholders who are part of the High Level Revitalisation Forum as well as other leaders and interested parties. Our focus will also be on how the community here in Australia can help rebuild trust amongst itself, facilitate our own peace process and contribute to what is necessary to bring about sustainable peace in South Sudan, Sudan and here in Australia.

Guest speaker:
We have invited our Minister for Foreign Affairs and Trade, the Hon Julie Bishop, to open the Consultation.
As a result of a meeting of clergy and lay leaders in January in Melbourne a short video was produced t counter the negative stereotyping affecting young African people. The video can be viewed here.
An Ecumenical Healing Service was held at St Paul's Cathedral, video excerpts can be viewed here.
Download the brochure and registration form.
To register, please send your form to This email address is being protected from spambots. You need JavaScript enabled to view it. no later than 9 May 2018.
Please note: Travel and Accommodation is at the participant's or church/organisation's expense.
Lunch, Morning and Afternoon teas will be provided each day. A celebratory dinner with local community members is planned for Tuesday evening.