What do the Churches say... (1)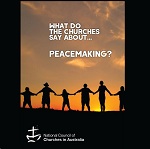 ...PEACEMAKING 
The NCCA Social Justice Network has chosen the topic of "PEACEMAKING" for the first edition of their 'What do the Churches say about'  series. 
This resource puts together a collection of statements that our member churches have made on the topic of peace-making.
The resource is available in printable PDF format and can be downloaded by using the link below.