The NCCA is
19 Christian Churches
, gathered from across this wide brown land, who have embarked on a pilgrimage together. We each bring a widely varied history of place, experience, and theology, but we share a common faith and confession in the Lord Jesus Christ as God and Saviour. We also share a common future as we are convinced that the future of Christians in Australia lies together, not in separation.
National Council of Churches in Australia
Week of Prayer for Christian Unity 2015
Wednesday, 18 February 2015 10:01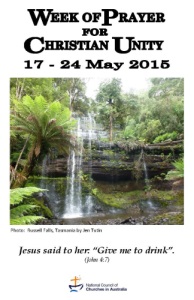 17 – 24 May 2015
Jesus said to her, "Give me to drink."
John 4:7
In 2015 the Week of Prayer for Christian Unity in Australia will be observed from 17-24 May 2015 in the week between Ascension and Pentecost.
4th General Secretary commissioned
Wednesday, 21 January 2015 15:46
Sr Elizabeth Delaney, a Sister of the Good Samaritan (SGS) of the Order of St Benedict, was commissioned on 4 March 2015 as the 4th General Secretary of  the National Council of Churches in Australia (NCCA), based in Sydney. Elizabeth brings ten years' experience with ecumenical and inter-faith dialogues through the offices of the Australian Catholic Bishops Conference and her five years of service as a member of the NCCA Executive Committee. The NCCA was formed in 1994 with an expanded membership of churches to succeed the Australian Council of Churches that had commenced as a national committee of Australian churches in 1946.
Martin Place Statement 16 Dec 2014
Tuesday, 16 December 2014 13:29
Social Justice Sunday - 28 September 2014
Tuesday, 23 September 2014 11:38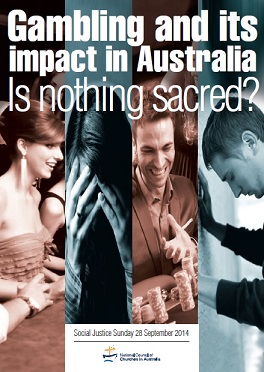 28 September 2014
Gambling and its Impact in Australia
Is Nothing Sacred?
The NCCA Social Justice Network has chosen the topic of "gambling" for the 2014 Social Justice Sunday resource in the hope of voicing the strong concerns held by the Churches about the encroachment of gambling and its destruction into the daily lives of many Australians. Poker machine reform is no longer on our national political agenda, however the expansion of gambling methods is extending, prompting the subtitle "is nothing sacred?".
The resource is available in hard copy by phoning or emailing the NCCA. Copies may also be available from either your State Council of Churches or possibly your denomination Social Justice Officer.