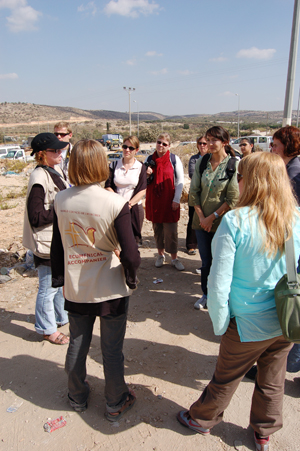 The Ecumenical Accompaniment Program in Palestine and Israel is a program of the World Council of Churches (WCC) which since 2002 has sent over 1,400 international human rights monitors to the West Bank of Palestine.
The National Council of Churches in Australia are honored to be a sending organisation, and are responsible for the recruitment, training and support of Ecumenical Accompaniers(EA's). In Australia EAPPI is administered by a voluntary committee that relates to both the NCCA staff and EAPPI internationally.
EAPPI's mission is to to witness life under occupation, engage with local Palestinians and Israelis pursuing a just peace, to change the international community's involvement in the conflict, urging them to act against injustice in the region.
Would you like to become an Ecumenical Accompanier?
EA's must be aged 25-70 years; of robust physical and emotional health, and can commit three months to shared living in the West Bank.  If this sounds like you, we'd love to talk with you more about you beoming an EA! Read more about becoming an Ecumenical Accompanier.  Our next training is 21-24 May, 2015 - download the flyer.
For more information please contact: This e-mail address is being protected from spambots. You need JavaScript enabled to view it

Would you like to visit EAPPI in the West Bank?
Group of 10 or more can organise to visit Ecumenical Accompaniers in the West Bank.  This is a unique opportunity to understand the reality of life in the West Bank (including East Jerusalem) and the effects of the occupation on daily life. Find out more.
Would you like to have a returned EA speak to your group in Australia?
We have returned Ecumenical Accompaniers (EAs) around Australia who would love to come and share their experience with your group.  Pleae contact us at This e-mail address is being protected from spambots. You need JavaScript enabled to view it to find out more.