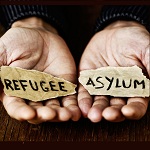 Australian Christian Churches stand in unity for compassion, justice and dignity for refugees in Manus Island, PNG.
November 24 2017
The National Council of Churches in Australia, Act for Peace and the Australian Churches Refugee Taskforce stand together to bear witness to the suffering that Australia's bipartisan refugee policy in regard to offshore processing, has caused.
In the media statment, Churches mourn the loss of justice for those refugees in PNG; pray for Australian Government leadership; stand with the Manus Island and PNG people; plead for the relocation of the men that remain in PNG and call for change.
Read the full Media Relase here
Further inquiries can be made to:
Bishop Phillip Huggins
President, National Council of Churches in Australia, 0418799515
The Very Rev'd Dr, Peter Catt
Chair of the Australian Churches Refugee Taskforce, 0404052494
Caz Coleman
Executive Officer, Australian Churches Refugee Taskforce 0411876226