Inaugural First People's Theological Conference
Walking Together: How can the Church embrace the first people's theology in a post-colonial Australia
An opportunity to hear the voices and perspectives of First Peoples on issues relating to the Uniting Church, Theology, and Reconciliation.
Keynote speakers include:
Rev. Mark Kickett, Interim National Chairperson of the Uniting Aboriginal and Islander Christian Congress (UAICC).
Rev. Dr Garry Deverell, Lecturer and Research Fellow, School of Indigenous Studies, University of Divinity.
Professor Dr Anne Pattel-Gray, Head of the School of Indigenous Studies with University of Divinity.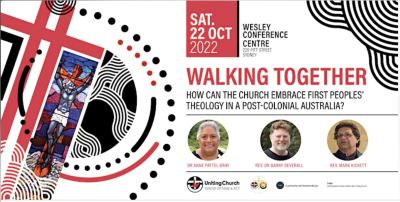 When: October 22nd, 2022, 9.30am – 4.45pm AEDT
Where: Wesley Conference Centre, 220 Pitt Street, Sydney - and online
Cost: in person $65/$50 concession; Digital Access ticket $35.
Registration: on Eventbrite