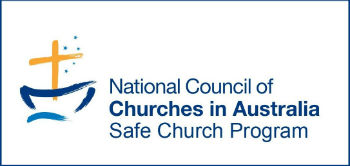 National Child Protection Week:
5-11 September
The theme this year is:  Every child, in every community, needs a fair go. 
To treat all of Australia's children fairly, we need to make sure every family and community has what kids need to thrive and be healthy. 
Support the campaign. Find out more about National Child Protection Week on the NAPCAN website.
The NCCA Safe Church Program is pleased to share these resources to ensure Safer Churches for all our members.
DATE CLAIMERS
1. WEBINAR - NSW Reportable Conduct Scheme for Religious Bodies: 9.30am – 12.30pm on Friday 15 October 2021
Are you a member of clergy or a spiritual leader in a religious body? Does the religious body require you to hold a Working with Children Check - whether as an employee or volunteer? If the answer is yes – you fall under the Reportable Conduct Scheme in NSW.
Join the Director and senior staff of the NSW Reportable Conduct Scheme for a 3-hour session to get expert and tailored information that will help your organisation understand its legal obligations. 
The session will cover how the reportable conduct scheme relates to your daily work and will include sector-specific data insights and case study examples, information about how to strengthen investigations and a question-and-answer session.
 2. Professional Learning Webinar – Friday 22 October 2021. Time to be advised
NCCA's Safe Church Network is pleased to present a Professional Learning Webinar to our safeguarding community on embedding:  
National Child Safe Standard 2: Children participate in decisions affecting them and are taken seriously. 
Led by the Salvation Army of Australia, the webinar will share areas of research and programming that are looking at participation of children and youth in our mission and services. What are the participation and inclusion enablers and barriers that are being learned? Co-design with young people in services – what are the principles of participation that are being identified. 
Friday 22 October 2021 is also the third anniversary of the National Apology to Victims and Survivors of Institutional Child Sexual Abuse and our webinar will commence with a reflection and prayer to acknowledge this important day.  
UCA Children & Families Ministry Update - September 
Uniting Church in Australia (UCA) have released details for scheduled events and resources from their Children's & Families Ministry. Take a look at what is on offer!  
1.  2021 Leaders to Go               September 11   On-line  12.15pm-3pm AEST  
Australia's premier event for leaders influencing other leaders in ministry with children and their families, Leaders to Go will be more accessible than ever before as it moves on-line! As well engaging with the amazing Susy Lee, author of Raising Kids Who Care, there will be plenty of opportunity to connect with other leaders from all around Australia.  
Click here for More information and/or here regarding Registration. 
2.   Father's Day  
3.  National Child Safe Week (Sep 5-11)  
4.   via Messy Church 
5.   via Grow Ministries  
 6.   2021 Season of Creation +  
7.   via Fuller  
8.   Ministry Matters +  
9.   Some Highlighted Opportunities  
Worship & Preaching      Weekly On-line Training from Sep 1       7pm-9pm  
The world has and is changing and many are seeking new ways of leadership and being in church. Pick and choose the sessions which are most relevant for you and your community. Join in by yourself or connect with others from your church. More information here.  
Navigating the Landscape: building intercultural communities          Nov 3       9.30am-4pm 
 This workshop will offer opportunities to reflect on one's own ministry practice and its cultural relevance in his/her present ministry context. It seeks to enhance greater awareness and intentionality in building intercultural skills for ministry and community building. More information here.  
Nurture & Spiritual Guidance of Children     Nov 24 - Dec 1  
Especially suitable for church-based, school-based and community-based expressions of ministry, this course will assist you in developing an even more richly theologically-informed practice in relation to the spiritual nurture of children as you explore links between Scripture, theological thought, spiritual