20 Years of Suffering, 20 Years of Shame
Online forum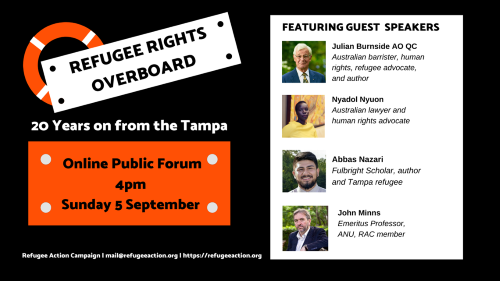 Refugee Rights Overboard: 20 Years on from Tampa
20 Years of Suffering, 20 Years of Shame
This forum has been organised by Canberra RAC 
When: Sunday 5 September 2021 at 4:00 pm AEST
Where: Online (Zoom) at 4:00 pm
Join Zoom Meeting: https://anu.zoom.us/j/85254331060?pwd=U25LaUtTSlJpWWpVK1lrMlRmM1RUQT09 
In 2001, John Howard's brutal determination to scapegoat and demonise people seeking asylum gave rise to two decades of Australian government and opposition parties competing in their cruelty towards refugees and whipping up fear and hate.
Howard's 'Tampa election' laid the basis for 20 years of cruelty – 20 years of suffering for people who simply sought safety and protection in Australia; 20 years of shame for all Australians. You can read a good account of the events of 2001 in this recent Guardian article here.
Come along to the virtual public forum on the events of 2001, the terrible consequences, and the alternatives that have always been available.
Speakers: Nyadol Nyuon, Julian Burnside, Abbas Nazari and John Minns.
Facebook event - https://www.facebook.com/events/197433822298545?ref=newsfeed 
RAC website notice - https://refugeeaction.org/20210823/refugee-rights-overboard-20-years-on-from-the-tampa/  
20th anniversary of the Tampa  
26 August marked the 20 years since the Tampa incident, which brought international attention and criticism to Australia, and was a decisive moment which lead to the harsh deterrence polices which have resulted in terrible and enduring suffering for thousands of refugees and people seeking asylum – these people who should have been welcomed to Australia.   20 years on, with the US withdrawal from Afghanistan we are seeing thousands in Afghanistan fearing for their lives and wanting to flee to safety.   While Australia has been seeking to evacuate Australian citizens, and some of those Afghani nationals who assisted the Australia military, the offer of 3,000 places for refugees is totally inadequate and shows a lack of compassion on the part of our federal political leaders.  
Action for Afghanistan
If you haven't already, go to this link https://www.actionforafghanistan.com.au/  to see more and sign the petition calling on the federal government to provide 20,000 places in a special refugee intake for Afghan refugees.  
The Australian Refugee Action Network (ARAN) has prepared a Resource Kit to remember the Tampa election.   We hope the various clips, articles and images will help people share the story of the Tampa Election, and strengthen our collective resolve to turn around the deterrence polices that cause so much suffering, and shame Australia.    
ARAN Tampa 20 year Anniversary Resource Kit
Direct link to the Resource Kit: aran.net.au/wp-content/uploads/2021/08/ARAN-Tampa-Anniversary-Resource-Kit-August-2021.pdf   
Link to the ARAN (Australian Refugee Action Network) webpage     
ABC coverage this week and other media links
See the excellent Australian Story episode (23/8) on how Vietnamese refugees were rescued and welcomed - in stark contrast to our current approach: https://www.abc.net.au/austory/saving-mg99/13504454    
7.30  Report - story with Abbas Nazari, Tampa refugee now New Zealand citizen, Fulbright scholar and writer  https://www.abc.net.au/7.30/meet-abbas-nazari---from-tampa-refugee-to/13512490  
Other articles: 
The Guardian: https://www.theguardian.com/australia-news/2021/aug/22/the-tampa-affair-20-years-on-the-ship-that-capsized-australias-refugee-policy  
Inside Story: https://insidestory.org.au/no-way-out/      
The Conversation: https://theconversation.com/cruel-costly-and-ineffective-australias-offshore-processing-asylum-seeker-policy-turns-9-166014