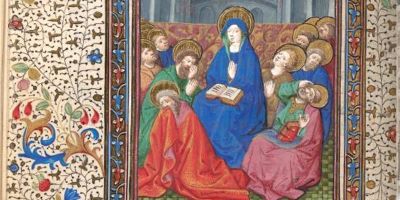 "Heeding the Spirit: New Horizons in Receptive Ecumenism"
Videos from the talks given at the CCS Study Series: "Heeding the Spirit: New Horizons in Receptive Ecumenism" held in June are now available.
The talks by key speakers have been made accessible on YouTube by the Centre for Catholic Studies, Durham University  
Following on from this event, we also share several pieces of Receptive Ecumenism-related news: 
1. The following talks from the Heeding the Spirit event are now available on our YouTube channel:
Paul D. Murray: 'Receptive Ecumenism's Distinctive Contribution' 
Antonia Pizzey: 'Deepening the Spiritual in the Ecumenical' 
Gregory Ryan: 'The Reception of Receptive Ecumenism' 
Mathew Chandrankunnel: 'Wider Ecumenism: A Pilgrimage Towards Cosmic Christ Consciousness' 
Sara Gehlin: 'Receptive Ecumenism and Cosmopolitan Conflict Resolution' 
Gabrielle Thomas: 'Qualitative Research and Receptive Ecumenism: Contributions from Fieldwork' 
Cyril Hovorun: 'Byzantine Ecumenism' 
The texts of some of the talks are also available on the CCS's RE Publications and Resources webpage (scroll down to the section called "Conference Papers, Lectures and Speeches"), along with a wealth of other writings on Receptive Ecumenism.
2. The Fifth International Receptive Ecumenism Conference will be held in Sigtuna, Sweden on 27-30 June 2022. The Call for Papers is live, with a deadline of 15 October 2021. 
3. On 17 September 2021, Paul Murray will be speaking on 'Receptive Ecumenism: The Role of the Spirit in New Ecumenical Endeavours" - an online event hosted by Glenmary Home Missioners. To see more information, register, or to make an enquiry, please visit the event page on Eventbrite. 
4. If you have any feedback on the Heeding the Spirit event, or if you would like to explore Receptive Ecumenism further, please contact Greg Ryan at This email address is being protected from spambots. You need JavaScript enabled to view it.  
5. If you would like to keep in touch with the Centre for Catholic Studies and haven't already joined our mailing list, please visit http://tinyurl.com/ccsmailinglist to submit your communication preferences and email address.