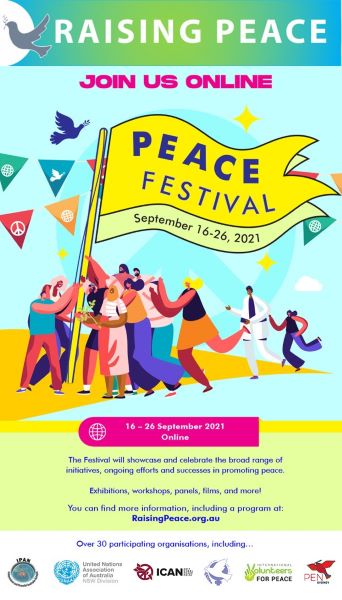 Raising Peace Festival
You're invited to join 'Raising Peace', a festival of over 30 organisations devoted to the pursuit of PEACE.
The Raising Peace Festival will be held online from 16 - 26 September 2021 as part of the world-wide observance of the International Day of Peace on September 21. 
Some 30 events will be featured at the Festival. Raising Peace will explore the significance peace has to First Nations people, women, youth, refugees, and the environment. It will look at the different ways we define and understand peace, from the absence of war to peacekeeping, peacebuilding, and peace-making. It will equip participants with inspiration and ideas to make their own contribution to peace. 
Go to RaisingPeace.org.au to read more about the many participating organisations.  
When: Thursday 16 - Sunday 26 September 2021
Registrations: Click here to register and for more information about these exciting events.  Registration is free. 
https://www.eventbrite.com.au/e/raising-peace-festival-tickets-167984773981  
Download  Raising peace festival_poster here. Please distribute this email or post on social media to interested people. 
---
International Day of Peace Interfaith Prayer Service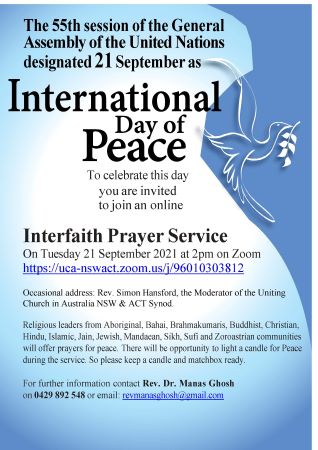 Join an online Interfaith Prayer Service.
You are warmly invited to celebrate the UN International Day of Peace.
When: Tuesday 21 September 2021 at 2pm
Where: on Zoom - https://uca-nswact.zoom.us/j/96010303812 
Occasional address: Rev. Simon Hansford, the Moderator of the Uniting Church in Australia NSW & ACT Synod.
Religious leaders from Aboriginal, Bahai, Brahmakumaris, Buddhist, Christian, Hindu, Islamic, Jain, Jewish, Mandaean, Sikh, Sufi and Zoroastrian communities will offer prayers for peace. There will be opportunity to light a candle for Peace during the service. So please keep a candle and matchbox ready.
For further information contact Rev. Dr. Manas Ghosh on 0429 892 548 or at This email address is being protected from spambots. You need JavaScript enabled to view it. 
Download  pdf Interfaith Prayer Service Peace_ Poster 2021 (404 KB)  here. You may use this to promote the service through your network of friends and families or organisation.