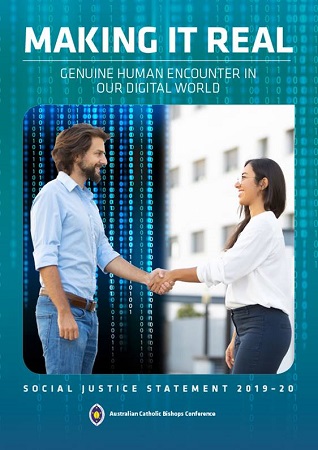 Making it real: Genuine human encounter in our digital world
The 2019–2020 Statement can now be ordered from the The Australian Catholic Bishops' Conference, Social Justice Office.
The statement includes the practical guide: Ten Steps and prayer card.
The Social Justice Statement for 2019 – 2020 affirms the positive possibilities for encounter and solidarity offered by new digital media, while warning of those elements of our digital world that may be harmful.
Archbishop Coleridge, President of the Australian Catholic Bishops Conference, in his letter for the Statement says,
"We all have a role in making this new digital world one where hatred and divisions are rejected and our love of God and neighbour
is fostered always."
The Archbishop's letter can be read here
The 2019-2020 Social Justice Statement Making it real: Genuine human encounter in our digital world can be ordered from the ASCJC here
For other Social Justice Statements and Letters visit the ASCJC webpage
Follow the Office for Social Justice of the Catholic Bishops Conference
Facebook: @socialjusticeACBC
Twitter: @justiceCatholic