A Place to Call Home: Making a home for everyone in our land
The Statement is a response to the growing problem of homelessness in Australia and the Scriptural basis of this year's Statement is Jesus' parable of the Good Samaritan (Luke10:30–35).
The 2018–2019 Statement can now be ordered from the The Australian Catholic Social Justice Council (ACSJC).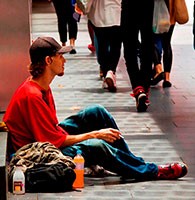 Archbishop Coleridge, President of the Australian Catholic Bishops Conference, in his letter for the Statement says,
"It emphasises that secure housing is a human right and an uncontestable public good, affirmed by both Catholic teaching and the Declaration of Human Rights.... it issues a challenge to government, to Church and community and to us as individuals to bring about change and reform."
The Archbishop's letter can be read here
The 2018-2019 Social Justice Statement A Place to Call Home: Making a home for everyone in our
land can be ordered from the ASCJC here
For other Social Justice statements and Letters visit the ASCJC webpage