World Council of Churches
WCC celebrates 70th Anniversary - Covenanting and Amsterdam 1948
The 70th anniversary of the WCC in 2018 is an opportunity to mark the achievements of the past 70 years in working for Christian unity and action, and to look to the challenges ahead as a fellowship of churches responding to God's call for unity, mission, justice and peace.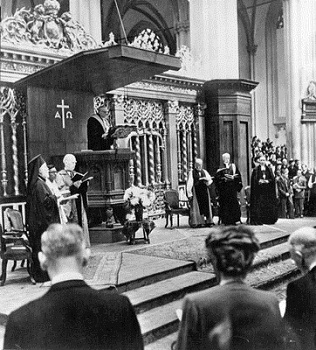 #WCC70 Amsterdam, 1948 (1): Covenanting in prayer
Opening service of the 1st assembly of WCC in Amsterdam, 1948. Left to right: Dr S. Germanos, Dr D.T. Niles, Dr John Mott, Dr K.H.E. Gravemeyer, Dr G.F. Fisher, Archibshop of Canterbury, Dr Marc Boegner, Dr E. Eidem
Read the WCC Convenanting in prayer article by Odair Pedroso Mateus, director of the Faith and Order Commission of the World Council of Churches (WCC).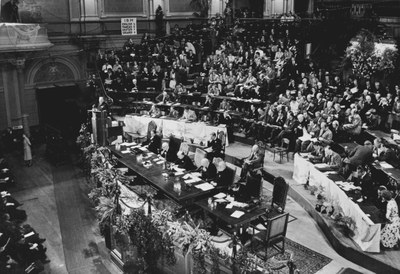 #WCC70 Amsterdam 1948 (2): Covenanting in work: What on earth is the World Council of Churches?
1st Assembly of the World Council of Churches in Amsterdam, Netherlands, 1948. Photo: WCC Archive
Covenanting in Work: What on earth is the World Council of Churches? by Odair Pedroso Mateus

#WCC70 Amsterdam 1948 (3): Covenanting in Study: The Universal Church in God's Design
A Commission of the Study Department preparing for the WCC Assembly in Amsterdam, 1948: Georges Florovsky, Oliver Tomkins, Floyd Tomkins and Emil Brunner. Photo: WCC Archive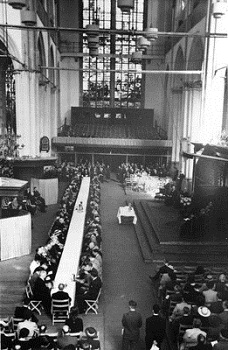 Covenanting in Study: The Universal Church in God's DesignCovenanting in Study: The Universal Church in God's Design by Odair Pedroso Mateus
#WCC70 Amsterdam 1948 (4): Covenanting in Study: Communism, Capitalism and the Responsible Society
Communion Service at the WCC Amsterdam assembly, 1948. Photo: WCC Archive
Covenanting in Study: Communism, Capitalism and the Responsible Society by Odair Pedroso Mateus