Welcome to the New Family: Baptism: A Simple Guide for Families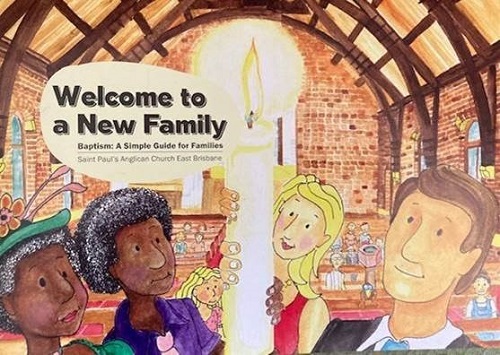 By Paul Bland and illustrated by Tracey Beadnell
This book is made available by the  Saint Paul's Anglican Church East Brisbane. While it is sacramentally orthodox, it is relevant for different denominations,
Paul Bland has been a teacher and school principal for many years. He  also a retired Anglican priest. 
Why is this little resource valuable?
It is beautiful and would make an  ideal gift at Baptism.
The parallel texts make it a good tool for preparing families for Baptism.
It is uniquely Australian and relevant to our families.
It is ecumenical in its outlook. 
It is intentionally inclusive .
Baptism: A Simple Guide for Families
You can order copies from This email address is being protected from spambots. You need JavaScript enabled to view it.  
$10 a copy: postage and GST included. 
Sample text: 
In Baptism, you are welcomed into another family – the family of the friends of Jesus. It's a big family, too, and like your own family, it is made up of people who love one another and who will love you too.
Sample illustrations:
  Paul's stories for children are collected on his website: Go to: paulbland.com.au to see the other titles.