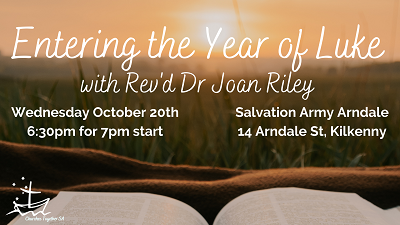 Entering the Year of Luke 
An ecumenical online and in person event with Rev'd Dr Joan Riley. 
Joan's research includes the multicultural, multiethnic communities of the Early Church, as well as women's role in the Early Church communities.
As our Churches grow into diverse and rich communities, Joan will share her reflections on Luke and its message to us, in our diversity and communion together, as one body in Christ. 
Luke brings to us a very different perspective, and a cosmopolitan voice, where Jesus' Way brought a new togetherness and engagement as God's people.
NB -This event will be in person as well as streamed. 
When: Wednesday 20 October 2021 
Time: 6:30pm for 7pm Start ACDT (ADL)
Where: Salvation Army Arndale, 14 Arndale Street Kilkenny, South Australia OR join in online.
Register: RSVP and reserve a spot online here indicating your attendance in person or online.